Applicant Resources and Leasing Process
Resources for Prospective Tenants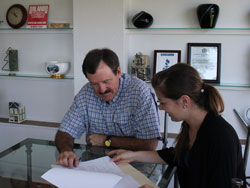 Rental Property Leasing Process
Leasing a home with The Jander Group usually follows these steps:
Visit our Website
You are completing this step right now! View our website to learn all about us and to determine which of our available rental homes meet your needs. You will see that our inventory contains rental homes in various locations, varying prices, and all Jander Group homes are non-smoking within the home.
Drive by our Homes
Even if you are familiar with the area, it is absolutely essential that you drive by each home that interests you to ensure its exact location will suit your needs.
Online Inquiry, Email or Call our office to Schedule a Showing Appointment
Submit an online inquiry, Email (leasing@jandergroup.com) or Call our Leasing Department to tell us of your interest and to arrange a personal viewing of the home you have selected. Since our property supervisors are regularly out of the office showing properties, it is often quickest and easiest to arrange an appointment via email (leasing@jandergroup.com). One of our property supervisors will coordinate a showing with the existing residents and arrange a mutually agreeable time to meet you at the home, in order for you to view the interior and decide with certainty that the home is right for you.
Showing appointments are scheduled during our normal business hours of Monday through Friday from 9:00 AM to 4:30 PM.
A completed lease application is not required in advance of a prospective resident's first appointment to view homes. Please make sure to let the leasing agent know all of the homes you desire to view at your first appointment. If the prospective resident wants to schedule a second appointment at a later date or a prospective resident misses/cancels the first appointment, a completed lease application must be submitted to The Jander Group for approval prior to the scheduling of the second appointment.
If a prospective resident desires a third party to view the home on his/her behalf, the prospective resident must submit the completed lease application for approval prior to the scheduling of the appointment to the third party.
** In advance of scheduling a showing appointment, we must have a clearly legible copy of a person's Driver's License, Passport or comparable Government Issued Photo ID on file. In order to schedule an appointment, please promptly email your ID to our leasing department. We cannot show any properties to a person unless we have the required ID documentation on file in advance of the appointment. **
Inquire About A Property
From Our Clients
"Our experience with Jander Group for the past 3+ years was wonderful! Everyone that we encountered at Jander Group always did their best to accommodate our request. More importantly, Jander Group upheld their obligation to the lease addendum, went above and beyond to expedite the return of the escrowed monies and made a very difficult situation seem a littler easier. We greatly appreciate all of the wonderful customer service during our entire lease term with Jander Group."

- John and Allison W.
Complete a Lease Application
Lease Application with Form Fields Lease Application - Print Only
All adult prospective residents will need to fully complete and sign The Jander Group lease application (Married couples only may share the same application). The Jander Group lease application fee is sixty dollars ($60) per application, which is due at the time of application submission. Acceptable means of payment for the lease application fee are check, money-order, or a certified check made payable to:
The Jander Group, Inc.
The Jander Group, Inc. does NOT accept payment via cash, debit card or credit card.
Please note: The Jander Group cannot process a lease application regardless of submission method until lease applicant actually submits the required lease application fee payment.
Holding Deposit
A holding deposit (usually equal to one month's rent) is the means by which an applicant secures a property. In consideration for the applicant submitting the holding deposit, The Jander Group will take the home off the rental market and refrain from showing it to other prospective residents. When a lease application is approved and the applicant signs the lease agreement, the holding deposit will be credited towards the required security deposit.
** The application fee and holding deposit must be 2 separate payments. **
If, for some reason, a person's lease application is not approved, the holding deposit will be returned to the person. If, however, the applicant's lease application is approved but the person decides that he/she does not want to rent the home after all, the holding deposit will be forfeited for the benefit of the owner of the home in compensation for taking the home off the rental market.
Lease applications will be checked in at least the following areas:
We will run a standard retail credit check to determine how the applicant pays his/her bills in general;
We will run a rental / mortgage payment verification search to determine how the applicant has met his/her rental / mortgage obligations in particular;
We will verify the applicant's local employment information (an applicant must include his/her recent pay stub or, if self-employed, tax return for last 2 years); and
We will run a background criminal check
**Applicants with unsatisfactory results from the above categories and/or lacking verifiable history will not meet the standard and customary qualifications for rental**
**Applicants with an eviction cannot be approved**
**Applicants with bankruptcies discharged for less than two years cannot be approved (NO Exceptions)**
**Please supply bankruptcy discharge papers when making appointment**
Please Note: Jander Group homes are not authorized to accept Section 8 Housing.
After approval the next step is to Sign the Lease Agreement!
The Jander Group will draft the lease agreement and forward it to the approved lease applicant for prompt execution and return.