About Us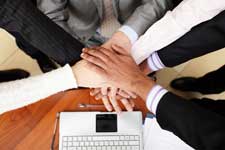 In 1990, The Jander Group, Inc. was established in Winter Park, Florida to serve the property management needs of homeowners and investors in the Greater Orlando, Florida area. Since its conception, The Jander Group has professionally managed thousands of homes over multiple states and helped numerous investors purchase and sell investment properties. The Jander Group, Inc. focuses on residential property management: single-family, multi-family, and apartment complexes. We are small enough to know your name while large enough to provide unmatched services in our local areas.
Meet our Friendly and Professional Team
Nicholas Musashe » Broker
Nicholas is the President of The Jander Group, Inc. and is also the same for Sun Properties, Inc., a real estate investment/acquisition company. In addition, he is the former owner of Apartment Locator Specialists, which he started in the Orlando area in 1984. Nicholas is an also attorney who has been in private practice in Florida since 1984 and in Georgia since 1979, specializing in real estate, contracts, and labor law. Mr. Musashe has served as an adjunct professor of real property law for Rollins College in Winter Park, Florida and has been an arbitrator for the American Arbitration Association since 1988. He was formerly an active member of the Apartment Association of Greater Orlando where he was on the Board of Directors from 1988 to 1991, Chairman of the Research Committee from 1986 to 1990, and was the Associate Vice President for 1991. He holds a Bachelor of Science degree from Western Michigan University at Kalamazoo, and a law degree from Loyola University of Chicago. His vast knowledge of residential real estate, along with his expertise in our judicial system, enhances The Jander Group's abilities to manage your property to its fullest potential. Nicholas is licensed as a Broker by the Florida Real Estate Commission, the Mississippi Real Estate Commission, the Tennessee Real Estate Commission, and the Arkansas Real Estate Commission. When Nicholas is not working, he enjoys spending time with his family, golfing, and traveling.
---
Suzanne Musashe » Director of Property Management
Suzanne is the Director of Property Management for The Jander Group, Inc. Prior to co-launching The Jander Group, Inc. many years ago, she was active in the apartment industry for over twenty years, with experience ranging from being the editor of The Memphis Apartment Guide to being co-owner and co-founder of Apartment Locator Specialists in Orlando, Florida. At Apartment Locator Specialists, Mrs. Musashe trained and managed a staff of ten leasing consultants while overseeing operations of two offices. In addition, she coordinated all advertising for the company and maintained public relations with 300+ apartment communities and numerous private owners of homes and condominiums. Currently, Suzanne helps manage the activities of office personnel at The Jander Group and is responsible for the training and supervision of all property supervisors and leasing agents in the Greater Orlando Office. With many years of experience in property management, Suzanne is extremely knowledgeable of the needs and wants of home renters, which expertise is invaluable to owners/investors. Suzanne's decades of experience have allowed her to become an expert in the residential real estate industry. Her wealth of knowledge and conservative nature allow her to properly and accurately evaluate potential real estate acquisitions for property investors. Mrs. Musashe is licensed by the Florida Real Estate Commission as a Salesperson, and is a former member of the Executive Exchange Council of Orlando. When Suzanne is not working, she spoils her grandchild, exercises on the beach, and plans her next travel adventures.
---
Andrew Musashe » District Manager
Andrew is the District Manager for The Jander Group, Inc. Andrew essentially grew up in the real estate business spending many hours at The Jander Group even before he officially began working in 1998. He has served in just about every capacity since his first days as an Office Assistant. Upon completing high school, Andrew promptly received his real estate salesperson license and began utilizing this licensure immediately. He graduated from Davidson College with a Bachelor of Arts degree, majoring in Economics. Andrew's knowledge of economic development, coupled with his extensive property acquisition and management experience, aids The Jander Group, Inc. greatly as he manages operations for both the Greater Orlando and Mid South Offices. Andrew is licensed by the Florida Real Estate Commission as a Broker, the Mississippi Real Estate Commission as a Broker, the Tennessee Real Estate Commission as a Broker, and the Arkansas Real Estate Commission as a Salesperson. Outside of The Jander Group, Andrew works as a soccer referee officiating professional and college matches throughout the United States. Andrew is also an avid gun dog and waterfowl enthusiast.
Extension 300
---
Jacki Sobo » Director of Leasing
Jacki is the Director of Leasing for The Jander Group, Inc. She has worked in all aspects of The Jander Group since it was founded in 1990. Living in Central Florida since childhood, Jacki has personally seen the changes in local real estate and the nuances for each area. Her vast knowledge of the area allows her to provide in depth service to both residents and property owners. Jacki's outgoing personality puts owners and residents at ease. She deals with many aspects of the company including marketing, leasing, advertising, and owner relations. Jacki also assists real estate investors to find quality and affordable properties. Jacki's knowledge of the property management business is an extreme asset to The Jander Group. Mrs. Sobo is licensed by the Florida Real Estate Commission as a Salesperson. Jacki's other passion is teaching, which she enjoyed for seven years after graduating from Florida State University. Jacki has an elementary age son that provides much joy and laughter to her and her husband's home. When not working, Jacki volunteers at her son's school helping raise money for improvements and extracurricular activities.
Extension 224
---
Michael Westmeyer » Property Supervisor
Michael is a Property Supervisor for The Jander Group, Inc. He has held various positions over his career as a Travel Agent, Photographer, Real Estate Sales Associate, and now as a Property Manager. Michael has a way of making people feel comfortable and at ease through the stressful situation of relocating and finding a new home. Prior to getting married to his beautiful bride, Michael enjoyed traveling all over the world, and brings this wealth of experience to our diverse community in Orlando. A Central Florida native, Michael is very familiar with the Greater Orlando area and this is a very helpful tool in aiding newcomers, as well as locals, with their housing needs. Michael is licensed by the Florida Real Estate Commission as a Salesperson and has found his niche in property management. When Michael breaks free from work, he enjoys spending time with his beautiful wife, tending to the needs of his sociable dog, and dominating many of the popular video games.
Extension 223
---
Kathy Tyler » Maintenance Supervisor
Kathy is the Maintenance Supervisor for The Jander Group, Inc. She coordinates all maintenance activities between residents and vendors as well as communicating with property owners on their properties' maintenance needs. She strives to carefully track each maintenance concern to ensure that each property is well maintained, which ultimately aids each property owner's investment. Property owners should rest assured that their property's maintenance needs are in good hands with Kathy.
Being a homeowner for over 30 years, Kathy personally understands the expense of maintenance repairs and brings the same care for her own home to each and every home managed by The Jander Group. Kathy is a true native Floridian growing up on the east coast of Florida and attending Florida State University. She homeschooled her now two adult children. Kathy's daughter lives in Europe and her son works not too far from our Greater Orlando, Florida Office.
Extension 225
---
Rachel Jackson » Accounting
Rachel oversees the Accounting Department for The Jander Group, Inc. She is a graduate of Rollins College in Winter Park, FL with a bachelor's degree in business. If you are a property owner, tenant, or vendor with accounting questions, Rachel is the go-to person to answer accounting inquiries. Outside of work at The Jander Group, Rachel is an avid equestrian, has developed specialized equestrian grooming products, and enjoys photography.
Extension 227
---
---